Hyundai accidentally leaks upcoming electric car IONIQ 5's specs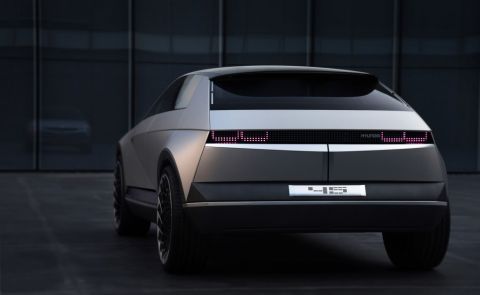 The Hyundai IONIQ 5 electric car is all set to be officially revealed in 2021, but the South Korean carmaker has accidentally leaked its specs that are impressive enough to successfully challenge comparable electric vehicles from rival brands.
The Hyundai IONIQ 5 will be the first of the three electric cars that will be launched under the Korean carmaker's new, fully electric sub-brand, called IONIQ, within the next four years. It will be a compact crossover based on the company's 45 Concept that was unveiled during Frankfurt motor show.
The carmaker yesterday accidently leaked some of the specs of the IONIQ 5 EV while posting its pre-order page shortly. While the company was quick to take the page down, numerous readers were quicker to capture and share screenshots of the new vehicle's specs.
As per the leaked specs, the IONIQ 5 will be an all wheel drive (AWD) EV equipped with 230 kW/313 PS electric motor, offering a range 450 kilometers (WLTP) on a single charge. Acceleration from zero to 100 km/h has been pegged at 5.2 seconds.
When it comes to charging processes: Schuko socket 1-phase will offer up to 2.3 kW and Wallbox at home (1- or 2-phase) of up to 11 kW. It will also offer AC accelerated charging (at a public charging station) of up to 11 kW. DC fast-charging will take just 15 minutes to recharge the vehicle 20 per cent to 80 per cent, thanks to its 800-volt technology.
Dimensions of the Hyundai IONIQ 5 electric car are also quite impressive. It is 4,460 mm in length, 1,600 mm in height, and 1,890 mm in width.
Previously, the company had said that the new EV would have a bi-directional charger, which would provide it with a vehicle-to-grid capacity. It means any additional energy could be supplied back to a household for running certain electrical appliance. According to the company, the bi-directional charging would also allow EV owners to use the car's batteries to store power and then discharge it back to the national power grid during peak demand times.
The Seoul, South Korea-headquartered carmaker has plans to develop and launch three EVs under its fully electric sub-brand IONIQ by 2024. While the Hyundai IONIQ 5 is slated to hit roads next year, the IONIQ 6 sports sedan will follow in 2022. A large, yet-to-be unveiled, SUV dubbed the IONIQ 7 will be rolled out in 2024. For the time being, all the three EVs remain under wraps.