HTC announces its latest android-based "HTC Hero" smartphone
Submitted by Darpana Kutty on Wed, 06/24/2009 - 22:01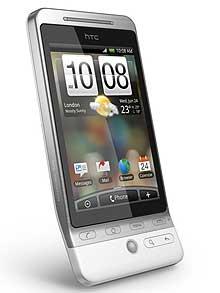 Serenading about its latest mobile handset in its Android line-up, HTC Hero – HTC is claiming that "HTC Hero" is the best Android phone up to now. HTC Hero has been recently announced at London  by HTC.
Smart looking smartphone with angled bottom – HTC Hero boasts of its 3.2-inch, 320 x 480, HVGA touchscreen supporting multi-touch and pinch whilst browsing, and 5 megapixel auto-focus camera.
The 14.3mm thick HTC Hero sports a Teflon coating soft-touch finish. The phone comes packed with a slew of features including built-in GPS and a gravity sensor, a digital compass for simple navigation, an accelerometer, a standard 3.5mm headphone jack, anti-fingerprint screen
HTC Hero runs the Google-backed Android operating system. It uses Qualcomm MSM7200A processor running at 528MHz. The phone comes with 512MB ROM and 288MB RAM. The memory of the phone can be expanded to 16GB using a microSD memory card. The phone offers support for 900/2100MHz HSPA and quadband GSM, and 802.11b/g Wi-Fi.
HTC Hero is known for its better browsing capabilities. The handset allows its users to send emails and messages to their friends, and access the services, such as Twitter, Facebook, and Flickr. HTC Hero will be available on T-Mobile and Orange in United Kingdom, in July. HTC has not revealed the price and launch date of HTC Hero yet.