HISTORICAL:: FIR against High Decibel Firecrackers on DIWALI NIGHT in Varanasi
Submitted by Ashok Rao on Thu, 11/15/2012 - 21:59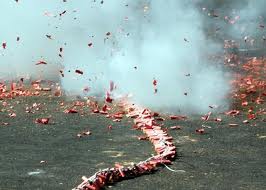 In a historical step (PROBABLY FIRST OF ITS KIND IN WHOLE OF UTTAR PRADESH), the Varanasi Police lodged FIR against an 'over-enthusiastic' 37 year old youth for using high-decibel firecracker (Chatai bomb), on the premises of Viraat Villa Apartment on the night of Diwali. The case was registered on written complaint from Dr. Adinath Upadhyaya, a visiting faculty with the Department of Musicology, Banaras Hindu University. The case has been registered under I. P. C. 290, 291 (jail up to 6 months or penalty or both) apart from the stringent Environment Protection Act-1986 (jail up to 5 years/penalty up to Rs. 1,00,000 or both) against one Ritesh Mehta, staying in the same Viraat Villa Apartments in the posh Mahmoorganj area under Sigra Police station of Varanasi.
Dr. Adinath Upadhyaya, aged 71 years in his written complaint stated that after the order from the District Magistrate for not using Noisy Firecrackers inside apartment/hospital/places of worship, he had personally appealed in writing to all the residents for not using firecrackers. But on Diwali night (Monday) at about 9 p. m., he saw his neighbor Ritesh Mehta lighting Chatai Bomb (series of bombs connected to each other), which exploded continuously for minutes. Dr. Upadhyaya immediately rang up Police Control Room and then requested the SP City for prompt action.
When the Nagar Nigam Chowki incharge, Sub Inspector Mr. T. D. Singh reached the spot, the high-decibel firecrackers were in full swing just under the first floor flat (at an aerial distance of 10 feet) of Dr. Adinath Upadhyaya and the Sub-Inspector could not talk or listen to anything.
"Continuous deafening sounds of bombs and the fumes- It was so terrifying", stated Ashok Kumar, a family freind and witness to the whole incident. The decibel meter in the hands of Upadhyaya family was showing the reading to be over 110 db (while permissible limit inside an apartment is 55 db during the day and 45 db at night after 10 p. m.). The Sub-Inspector himself was so shaken that he took no time in asking for written complaint from the victim. The complaint was given at 9.45 p. m. and at 10.30 p. m., case was finally registered against Ritesh Mehta at Sigra Police station, Varanasi.
The S. P. City Mr. Santosh Kumar Singh said that we are very serious about the implementation of Noise Pollution rules and anybody willing to register case (for noise beyond permissible limits even during the day) can easily do so at any of the police stations.
It is worth mentioning that due to constant campaigning against Noise Pollution by Satya Foundation at multiple levels, there is lot of awareness and legal action against Noise Pollution. Normally police avoids any action on such festivals for sake of 'peace & harmony' but thanks to SP City Mr. S. K. Singh for coming to rescue of 71 year old man whose 'young' neighbor did the heinous crime, inspite of all prior appeal. Let us hope that this incident will inspire other people to stand up boldly against such terrorism in the guise of religion and festivals.