Heroin, fake currency seized in Amritsar, three nabbed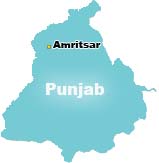 Amritsar, Mar 30 : Police seized four kilograms of heroin and fake currency worth rupees one million from three suspects in Amritsar.
The three suspects were from neighbouring Tarn Taran district, said P K Rai, Senior Superintendent of Police, Special Narcotic Cell of Punjab police.
"We received information that a group of three men have received heroin and fake currency from Pakistan. We trapped them near defence drain bridge near village Dholan, when they were about to deliver the consignment. During inspection, we found four kilograms of heroin and fake Indian currency worth rupees one million," he said.
Rai said that the consignment was pushed into by Indian territory by an alleged Pakistani smuggler, Julfikar.
The culprits have been charged under the Narcotic Drugs and Psychotropic Substances (Regulation of Controlled Substances Order 1993) Act and other offences.
Narcotics agencies say India, wedged between two major drug-producing regions, the Golden Triangle and the Golden Crescent, is a major transit point for drug smuggling to the West where returns are lucrative.
Heroin is derived from morphine, a naturally occurring substance extracted from the seedpod of the Asian poppy plant. Heroin usually appears as a white or brown powder. (ANI)