Govt. will be able to achieve its spectrum auction target: Chidambaram
Submitted by Mitra Pathak on Sat, 11/17/2012 - 15:26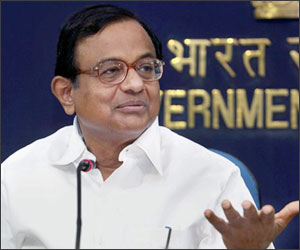 The response to the recently concluded 2G spectrum auction was lukewarm, but the government at the centre is still confident that it capable of meeting its target of generating Rs 40,000 crore from the auctions of airwaves this financial year.
In the recent 1,800-MHz band spectrum auction, the government could earn just Rs 9,407.64 crore, less than a quarter of its own estimate of more than Rs 40,000 crore.
Union Finance Minister P Chidambaram, who is also the head of the empowered group of ministers on telecom, announced that re-auction of spectrum in Delhi, Mumbai, Rajasthan and Karnataka, the circles that received no bids, would be conducted soon.
Speaking to reporters, Chidambaram said, "The auction process has not ended. There will be another auction for the unsold spectrum before March 31. We are hopeful we will be able to achieve the target."'
Chidambaram admitted that they were let down due to the poor results of the auction, but added that the auction helped determine the market price.
Separately, Telecom Minister Kapil Sibal India got nothing from the propaganda of the alleged scam. It may be noted here that the Comptroller and Auditor General (CAG) had said in its report that the government's action of awarding the spectrum in 2008 had robbed the exchequer of Rs 1.76 lakh crore.
The main opposition party, Bharatiya Janata Party (BJP), reacted to Sibal's comments by arguing that Congress-led UPA was perhaps the world's first government that was celebrating its own defeat in the spectrum auction not yielding the desired results.