Gold Daily Commentary for 4.28.09
Gold has collapsed in reaction to tumbling crude futures as deflation worries come front and center.  The Swine Flu outbreak is concerning investors that consumption could take a big hit with individuals opting to avoid busy areas, such as shopping malls.  With recent CPI data already hinting at deflation, the Swine Flu only exacerbates the situation.  Therefore, gold is declining with equities as we witnessed during the height of the economic crisis. 
However, any conclusion would be a premature assumption so we will we need to keep a close eye on the developing situation.  Regardless, gold remains a tough read.  Just when we think the precious metal has recommitted to a $900/oz+ future gold gets beaten down, placing a large question mark over trend. 
That being said, gold is fighting to stay above 4/21 lows, meaning the fundamentals are still in place for an uptrend.  This is reinforced by the fact that our 1st and 2nd tier uptrend lines are intact.  On the other hand, the downtrend holds more weight with time on its side as our 2nd and 3rd tier downtrend lines hang overhead.  Hence the confusion regarding the precious metal's trend.       
Fundamentally we find resistances of $889.20/oz, $891.44/oz, $893.90/oz, $896.59/oz, and $899.05/oz.  To the downside, we see supports of $885.62, $882.94/oz, $880.25/oz, $877.34/oz, and $874.66/oz. Gold is currently trading at $887.40/oz.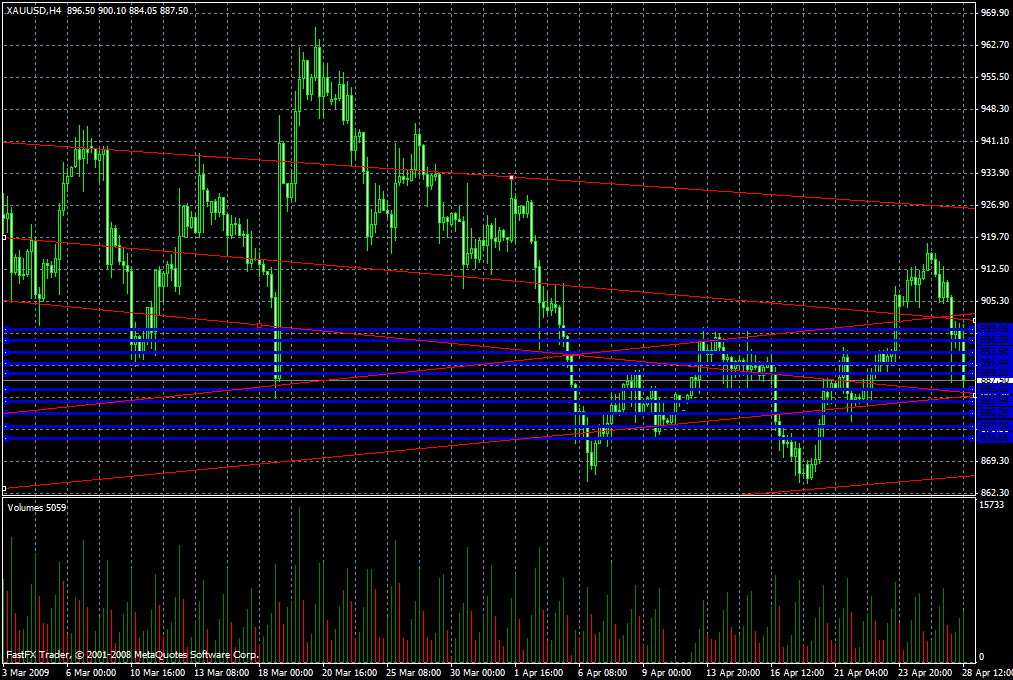 Copyright 2009 FastBrokers, Latest Forex News and Analysis for Forex, Bullion and Commodity Traders.
Disclaimer: For information purposes only. FastBrokers assumes no responsibility or liability from gains or losses incurred by the information herein contained. There is a substantial risk of loss in trading futures and foreign exchange.