A friend arrives from Pakistan to meet Prime Minister "Mohna" in New Delhi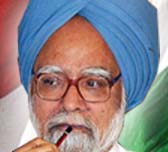 Wagah May 23, : Similar to the Hindu legend about Mathura King Krishna meeting his poor childhood friend Sudama after years of separation, a school friend of Prime Minister Dr. Manmohan Singh is seeking a personal audience with him.
When Dr. Manmohan Singh took over as Prime Minister of India, Raja Ali Mohammad had sent his personal greetings through his nephew, a Deputy Commissioner in Pakistan, along with a set of embroidered golden Punjabi slippers, popularly called "Tille Wali Jutti", as a gift.
In return, expressing his gratitude to his native villagers and friend in Pakistan, Dr. Manmohan Singh had written to them and promised them a visit to his native village some day.
A long time has passed since their last meeting, but for Raja Ali, his Prime Minister turned friend always remained the same "Mohna" despite his shifting over to this side of the subcontinental divide after the 1947 Partition of India.
"I am here to see my teenaged pal "Mohna" who left us many years ago," said Raja Ali Mohammad, the man from Pakistan who crossed over to India via the Wagah border on Friday.
And, to revive old memories of his childhood friend "Mohna", Ali is carrying about four small packets of soil and a jug full of water collected from their native Gah Village in Pakistan's Chakwal District.
Besides, Raja Ali is carrying photographs of their Gah Village and of the Katasraj Temple, besides a copy of the school record where Dr. Manmohan Singh's name was registered
Earlier, DAV Public School children and the Principal at Wagah border gave Ali, who arrived here along with his nephew Hazi Mohammad Ahmad, a warm welcome.
"I have brought a message of love and peace with deep affection for my friend," said Raja Ali, an immensely delighted old man.
Speaking to media, Rali Ali reminiscenced about how both of them had their primary education together. He told that Mohna's father was a businessman who ran a dry fruits business in Gallah Mandi (in Pakistan). But at school, when Mohna used to carry dry fruits with him, Ali and other friends would steal it from his pocket or schoolbag and face punishment on being caught.
Asked whether he has formally taken any appointment with Dr. Manmohan Singh, Raja Ali replied that he was not aware of any protocol or official way to meet a friend. He said: "I will just go to his (PM Manmohan Singh) home directly. And, there I would meet my Bhabhi (sister-in-law) and children. I am not keen to meet my friend in office. My eyes just wish to see my childhood friend Mohna, that's all."
When Singh became the Prime Minister of India, people from Multan and Rawalpindi claimed that he is from their villages. But we have got the proof of having a certificate from our village school, he added.
Ali said that it was due to Dr. Manmohan Singh that the Government of Pakistan built two high schools and hospitals in our Gah Village. The entire credit goes to Dr. Manmohan Singh.
He also informed that an under construction school would soon be named after Dr. Manmohan Singh in Pakistan. (ANI)