Five killed, 17 wounded in Kandahar suicide bomb attack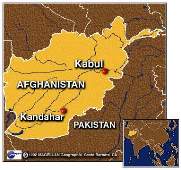 Kandahar (Afghanistan), Apr. 9 : At least five people were killed and 17 wounded when a suicide bomber attacked a police drug eradication unit in southern Afghanistan on Thursday.
The Taliban claimed responsibility for the incident.
The Dawn quoted Helmand Province's Deputy Police Chief Kamaluddin, as saying that the attacker struck the patrol in Lashkar Gah, a major drug-producing area.
The members of the force were traveling in a convoy of vehicles headed for nearby districts to eradicate poppies at the time of the blast, he added.
Among the dead were two police officers and three civilians. Four policemen and 13 civilians were injured.
The explosion damaged two police vehicles and three shops.
The Afghan Interior Ministry blamed ''the narcotics mafia'' for the attack.
Afghanistan is the world''s largest producer of opium, the main ingredient in heroin. The Afghan opium trade accounts for 90 percent of worldwide production. The UN estimated last year that up to 500 million dollars from the illegal drug trade flows to Taliban fighters and criminal groups. (ANI)