Everonn Systems India Buy Call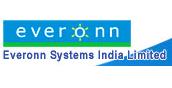 Stock market analyst Ashwani Gujral is of the view that Everonn Systems India is looking strong to zoom in the coming weeks. Interested investors can buy the stock on declines with a stop loss of Rs 780-800. The price target for this counter is Rs 1200-1400.
At National Stock Exchange, the stock of the company has touched 52-week high of Rs 1,011 and a low of Rs 245. The company has earned a net profit of Rs 4 crore for year ending March 2007, and Rs 2 crore for quarter ending September 2007. Yesterday (27 Dec), the stock marked its closure at Rs 919 on National Stock Exchange. The total volume of share traded was 379868 on NSE.
The outlook looks positive. The stock will surely attain the target in the said time period.
The company is also doing hearty efforts to achieve its pinnacle in the coming quarters.
Other companies from the sector, which will post good gains in the future include Educomp Sol, NIIT and Aptech.