EUR/USD Daily Commentary for 4.22.09
The EUR/USD continues its consolidation between our 2nd tier uptrend and downtrend lines, a sign that we could see a little near-term pop as investors bite on what may be oversold conditions. The EUR/USD is experiencing stability due to a better than expected Claimant Count Change number in Britain.
However, any near-term gains could be mitigated due to the highly psychological 1.30 lying just above present levels. Hence, the EUR/USD should experience more relative consolidation over the next 24 hours as investors await the flood of manufacturing and services data tomorrow.
Analysts are expecting the data points to improve slightly from last month's release. If the numbers come in better anticipated, we could see a nice rally in the EUR/USD, and if the numbers disappoint vice/versa.
Therefore, Euro investors should enjoy the calm of today as no news is good news. However, the fact the EUR/USD hasn't been able to rally back past this area is a sign that the downtrend has its grip around the currency pair's neck.
Despite any near-term any gains that may be realized, we maintain our negative outlook on the EUR/USD trend wise. With increasing downward pressure on U. S. equities and the sustainability of the economic stabilization in doubt, the EUR/USD should remain in its damaged state unless news comes showing the serious problems stemming from the global financial crisis are behind us.
Fundamentally, we maintain our supports of 1.2919, 1.2876, 1.2833, and 1.2800 with fresh bottom-end of 1.2756. To the topside, we hold our resistances of 1.2953, 1.3017,
1.3050, 1.3091, and 1.3126.
The 1.30 area still serves as a psychological barrier with 1.25 becoming a key psychological cushion. The EUR/USD is currently exchanging at 1.2958.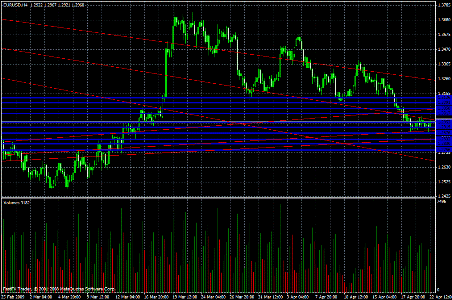 Copyright 2009 FastBrokers, Latest Forex News and Analysis for Forex, Bullion and Commodity Traders. 
Disclaimer: For information purposes only. FastBrokers assumes no responsibility or liability from gains or losses incurred by the information herein contained. There is a substantial risk of loss in trading futures and foreign exchange.