EU expects "clarity" on Slovenia-Croatia row in weeks, Rehn says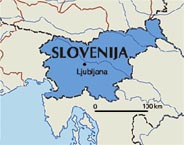 Brussels - The European Union expects "clarity" on how to solve a border row between Slovenia and Croatia within weeks, EU Enlargement Commissioner Olli Rehn said Friday.
The prime ministers of the embattled countries are set to meet on Tuesday, and "I expect clarity ... in the first week of March at the latest" on the question of whether both sides would accept EU mediation, he said.
Former Finnish president Martti Ahtisaari "would be ready" to head a EU team to solve the problem, which has seen EU and NATO member Slovenia block Croatia's bid for EU membership and threaten to torpedo its bid to join NATO, Rehn said.
Ahtisaari won a Nobel Peace Prize in 2008 for leading UN efforts to broker a deal between Serbia and Kosovo over the latter's independence claims.
Croatia and Slovenia are at odds over the maritime border which runs through the Bay of Piran in the northern Adriatic - a bay flanked by both countries and Italy.
Croatia says that the border should be drawn down the middle of the bay, but Slovenia argues that this would cut it off from international waters.
The row took on an EU dimension in December when Slovenia blocked talks on Croatia's plans to join the EU.
On January 23 the EU asked Ahtisaari to chair a high-level expert group to negotiate a solution.
But any such group would only work if both Slovenia and Croatia agreed to it, Rehn said.
EU and Croatian officials are set to discuss the accession process at the end of March. It is "important" that that meeting keeps up the momentum of the process, Rehn said. (dpa)