Etihad Airways now to fly to Jaipur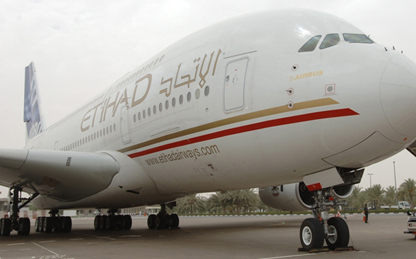 Abu Dhabi, April 2 : Etihad Airways, the national airline of the United Arab Emirates (UAE), Wednesday commenced daily operations between Jaipur, the capital of the Indian state of Rajasthan, and Abu Dhabi.
"The addition of the Jaipur service reinforces Etihad Airways' commitment to the Indian subcontinent," Craig Thomas, Etihad Airways' regional general manager for Asia-Pacific North and the Indian subcontinent, said in a statement.
"We are confident that the new flights will continue the strong passenger growth between India and the UAE," he added.
Etihad Airways' new daily service will be operated with an Airbus A320 aircraft in a two-class configuration, featuring 16 Pearl Business Class seats and 120 Coral Economy Class seats, according to the Etihad statement.
With the addition of Jaipur, Etihad now serves a total of 10 Indian cities. These are: Ahmedabad, Bangalore, Chennai, Hyderabad, Kochi, Kozhikode, Mumbai, New Delhi and Trivandrum.
The new flight will leave Abu Dhabi 12.20 a. m. and land at Jaipur at 5.05 a. m. The return flight will leave Jaipur at 5.50 a. m. and reach Abu Dhabi at 7.50 a. m.(IANS)