Draghi's firm measures boost European markets
Submitted by Sumeet Kak on Sat, 09/08/2012 - 19:53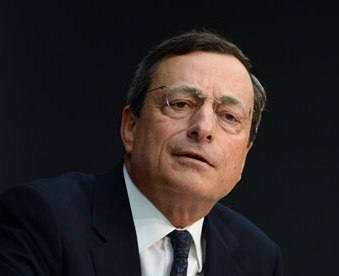 Mario Draghi, president of the European Central Bank (ECB), on Thursday announced some really serious measures to tackle the region's persistent debt crisis, sending European stock markets up.
One of the firm decisions that the ECB took is that the central bank will hereafter purchase treasury bonds directly from governments. This decision was taken to guarantee sovereign debt. Previously, the central bank could only loan to banks who would then loan to governments.
Such steps gave a much-needed boost to European markets. In certain bourses, European markets touched six-month highs. Spain's Ibex gained the most (4.9 per cent) on the continent after the announcement of the new measures.
Italy's MIB jumped 4.3 per cent to close on Friday, while the French CAC climbed 3 per cent. The London's FTSE and Germany's Dax climbed 2.1 per cent and 2.9 per cent.
But, the measures were also criticized by many, Portugal's leading newsmagazine Visao's journalist Anna Navarro-Pedro, who described the measures as "too little, too late."
Ms. Anna Navarro-Pedro said that the measures should have been taken two years ago because people in Portugal, Spain and other hard-hit European countries died in the meantime because of the hardships caused by the debt servicing problems.
Ms. Anna Navarro-Pedro is one of the most outspoken critics of the Portuguese fiscal austerity measures.