CyberLandr to add bedroom, kitchen, office, bathroom and much more to Tesla Cybertruck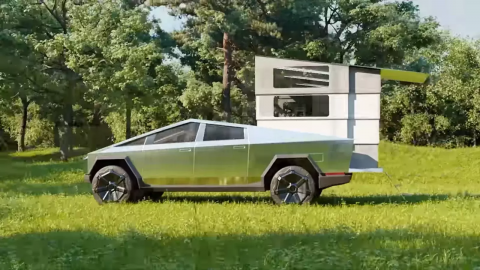 Tesla Motors' all-electric light duty truck called Cybertruck seems to be months away from being rolled out; but the e-pickup is already inspiring people and companies to create and offer accessories. Cyberlandr has created the ultimate camper, which would allow owners to take the facilities of bedroom, kitchen, living room, bathroom, and even office with them anywhere they want. The innovative optional facility can automatically be deployed out of the yet-to-be-produced Cybertruck's bed.
When not opened, CyberLandr disappears completely within the Cybertruck's bed. When stowed, it allows the tonneau cover as well as tailgate to close, creating zero aerodynamic drag and providing a remarkably low center of gravity.
Introducing the CyberLandr, the manufacturer said, "When stowed, CyberLandr disappears entirely within the bed of the Cybertruck and allows the tonneau cover and tailgate to close so it creates zero aerodynamic drag and provides an exceptionally low center of gravity."
In its packed position, CyberLandr will allow the EV to move through rugged terrains, while also ensuring its smooth entry and parking in garages. Additionally, it will ensure minimal affect on the EV's range. According to the manufacturer's claims, it will only affect the EV's range by around 5 per cent, despite the fact that it will add more than 1, 2000 pounds to the weight of the EV.
However the loss of 5 per cent range is negligible, considering the facilities it will offer. It will bring a modern kitchen with features like a large, tri-level sink with colander, wash bin, drying rack, and cutting board, smart faucet with manual, touchless, as well as voice control. It will also feature expansive porcelain counter top with more than 5 sq. ft. of working space. An induction cooktop will be underneath the countertop.
The owners will also get a living room that transforms into a bedroom equipped with 32-inch 4k UHD Smart TV/monitor with integrated AppleTV, Netflix, Prime, YouTube, and so forth.
Home automation will be there to effortlessly control climate as well as lighting through voice or mobile app. Reclining and free-standing seats can be repositioned or even moved outside the vehicle. Seats can be transformed into a comfortable RV queen bed.
Other attractive features include surround-sound audio system, electro-chromic dimming, dual-pane windows, and alarm system with 360º surveillance and motion sensing. Bed sits at counter height with space underneath for either two children or one adult.
Priced at $40,000 to $50,000, the Cyberlandr is available to be pre-ordered for $5,000. According to the manufacturer's official website, nearly two dozen people have already placed pre-orders for the innovative product.