CSC Motorcycles launches FT750ST and Vista Cruiser electric bicycles in U.S. market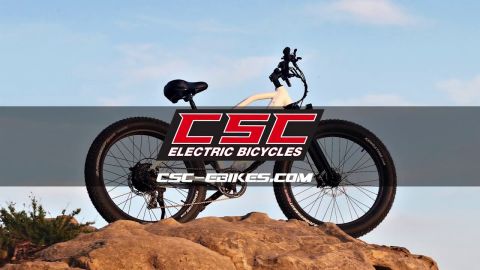 CSC Motorcycles has long been involved in the production of affordable gas-powered and electric motorcycles and scooters. But, now it is turning its focus to electric bicycles as well. The California-headquartered manufacturer recently announced the launch of two new e-bikes, dubbed the FT750ST and a dual-battery electric cargo bike called the Vista Cruiser.
The FT750ST shares several components with the company's first two e-bicycles, known as the FT750-20 and FT750-26. But, updated design of the new e-bicycle and addition of some new features will make it more accessible and easier-to-ride for potential buyers. Its innovative frame, equipped with the hydraulic front fork and extra wide 4-inch tires, provides an upright riding position that will be more comfortable. It also makes it easier for carrying things, thanks to its front basket and an integrated rear rack that has been designed directly into the frame.
Its 750W Bafang hub motor in the rear wheel produces 80 Nm of torque, enough to propel the bicycle to gain a top speed of 20 mile per hour (roughly 32 km/h). Its Tektro hydraulic disc brakes are powerful enough to bring it back to a stop quickly.
Its 48V and 14Ah 672Wh-capacity Samsung battery, which comes hidden in the frame, offers a range of 25-45 miles (roughly 40-72 km) on a single charge. Of course, it depends on whether the rider uses throttle or pedal assist. The inclusion of a throttle makes the FT750ST a Class 2 e-bike in the United States, where demand for individual electric mobility solutions has been on the rise since the onset of the deadly Covid-19 pandemic early last year.
The CSC Vista Cruiser also comes equipped with a 750W Bafang hub motor in the rear and a seven-speed Shimano derailleur, and a pair of batteries (48V packs built with Samsung battery cells with a total of 1,368 Wh of capacity). The batteries offer an impressive range of 50-90 miles (80-145 km), depending on the use of pedal assist or throttle.
The 88 lb (39.9 kg) e-bicycle features hydraulic disc brakes, a thumb throttle, a double center, kickstand, fenders, Kenda HAVOK 27.5″ x 3″ tires, and 50 lux headlights and tail lights.
The CSC Vista Cruiser can be pre-ordered with a $200 deposit toward the MSRP of $2,488. The aforementioned FT750ST is available for $1,888, a few hundred dollars above some of the equivalent electric mobility solutions from other manufacturers.