The computer helper: Vista startup and shutdown woes
Washington -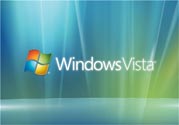 You shouldn't have to think a lot about how your computer starts up or shuts down. But that was before Windows Vista.
Microsoft's latest operating system sometimes has users scratching their heads in confusion when, for example, Vista takes five minutes to boot up or wants you to re-learn a procedure for something as simple as shutting down your operating system or putting it to sleep.
Call it the price of progress. Whatever the reason, with a little know-how you can overcome any startup/shutdown blues and get back to concentrating on productivity.
Q: My Vista computer starts up very slowly. It can be five minutes before the computer is ready to use. I don't remember my previous XP computer starting this slowly.
A: Because of Vista's many built in features and its graphics-heavy interface, it does tend to start up more slowly than XP. But a startup time of five minutes suggests one of two problems: either your computer does not have enough memory or the programs you have installed are loading a lot of helper applications behind the scenes when your computer starts. The problem could also be a combination of those issues.
First, the memory. Slow startup time is one of the issues you'll face if your Vista computer has just the minimum required memory to run the operating system, which is 512 MB of RAM. Consider adding 2 gigabytes (GB) to allow Vista and all of the applications you'll probably run with it to perform adequately.
If you have enough memory in your PC, startup programs are probably causing the slow boot times. Startup programs are components of installed applications that must be loaded every time you start your PC. You can see exactly which programs are being loaded at bootup by clicking the Vista Start button and typing "msconfig," without the quotation marks, in the Search field and pressing Enter. If the User Account Control dialog box appears, click Continue.
The System Configuration tool will open. Select the Startup tab, and you'll see a list of all of the programs that load each time you start or reboot your PC. By inspecting the names of the programs, you should get a good idea of which of your installed applications the startup programs belong to. For example, if you see "Logitech QuickCam," you can bet that you've installed software that belongs to a Logitech Webcam.
To make your computer boot faster, you can remove the check mark next to each startup item that you think you don't need. You could also simply uninstall a program that you know put one of those startup items on your computer. The choice is yours. But removing some or most of those startup items will almost surely allow your PC to boot up more quickly.
Q: I'm totally confused by Vista's power various shutdown modes. With XP I could open the Start menu and click Turn Off Computer and then choose what kind of shutdown I wanted. I don't even see that button in Vista. If I click the power button icon in the Vista Start menu, it puts the computer to sleep. I would rather have it shut down completely.
A: Microsoft revamped the power settings in Vista, and part of your confusion is a result of the changes the company made. Essentially shutting down Vista requires a different procedure than shutting down XP, but the good news is that you can configure Vista to work pretty much the way you'd like it to.
By default, as you've noted, if you open the Vista Start menu and click the "power button" icon, Vista goes into its "sleep" mode, which conserves some power and returns all of your applications to the state in which you left them when you return. To see all of Vista's shutdown options, click the right-pointing arrow in the lower right-hand corner of the Vista Start menu.
You can easily change what Vista does when you click the Start button's "power" icon as well as what the operating system does when you press the real power button on your computer. Here's how. Open the Vista Start menu, and click Control Panel. From the Control Panel, click System and Maintenance, and then click Power Options. Under the currently-selected power plan, click the "Change plan settings" link. On the resulting screen, click "Change advanced power settings."
The Power Options dialog box opens. Scroll down to the "Power buttons and lid" section, and click the plus sign (+) to expand that section. You'll see "Power button action" and "Start menu power button." Click the plus sign next to those sections as well. Now you can click the "Setting" drop-down under each section to select what should happen when you click the Start menu's shut down button or the real power button on your PC's case. Your choices include "sleep," "hibernate," "shut down," and "do nothing." Choose the one you want, and click OK.
--- Have a computer question? Send it to the Computer Helper at jayd@csi.com