Chandigarh bans auto-rickshaw from ferrying school children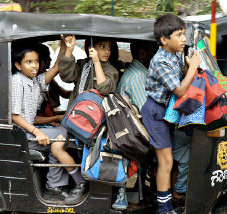 Chandigarh administration has on Friday announced to ban auto-rickshaws from ferrying schoolchildren.
This will be effective from Jan1, 2009.
Chandigarh's state transport authority secretary Vandana Disodia said the administration's decision has been conveyed to the auto-rickshaw union and its members.
She said the administration has instead suggested that auto-rickshaw drivers switch over to four-wheeled mini-vans which are covered from all sides. The administration has even offered loans to auto-rickshaw operators through government financial institutions for this purpose.
Auto-rickshaws in the city daily ferry hundreds of school children to and fro from their institutions.