Can Congress Ignore Baba Ramdev and People of India Anymore?
Submitted by Manpreet Dhillon on Mon, 08/13/2012 - 21:21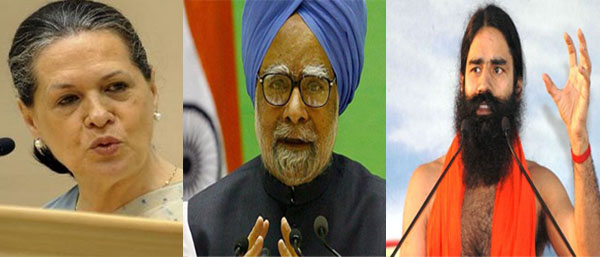 Congress feels that it is better to not give any importance to Baba Ramdev or Team Anna. However, the leadership in Congress is forgetting that common man in India is suffering and he wants the change in the system.
UPA government or Congress may think of ignoring Team Anna or Congress, but ignoring common man could cost it dearly in the upcoming elections. Congress has not performed well in recent state elections. Rahul Gandhi tried his best in Uttar Pradesh but the performance of the party in the elections should have made things clear to senior leadership of Congress. The regional parties supporting congress may have expressed their independent views on issues of corruption and Lokpal bill. The big question is when will the Congress party take concrete steps to do something for the nation.
Investors are blaming UPA-II for policy inaction and India is at risk of losing ranking as an investment destination. Indian middle class is blaming UPA-II and largely Congress for not taking any action against black money and rising inflation. So, these two things are pointing to economical and political failure of Prime Minister Manmohan Singh during his second inning as Prime Minister.
Regional parties do not want to play with emotions of a common man and want to save their vote bank. They have supported Baba Ramdev and Team Anna on several occasions. It is a different issue what they do in the parliament when the time comes to pass the important bills, but in media and public appearances, these parties support the action against corruption and black money.
NDA and BJP has supported anti-government movements in the recent past as well. Congress has always tried to escape the issue by relating Team Anna and Baba Ramdev to political parties.
It is high time that Congress leadership takes action as it will be important for their performance in upcoming elections. Otherwise, the predictions made by BJP leader L K Advani on his blog may come true. It will be difficult time for investors if the people of India do not give a strong mandate and we face hung parliament. It could mean another five year team of inaction and uncertainty.
Technology Sector