Buy Moser Baer, Target 160: Sovid Gupta, Fairwealth Securities
Submitted by Neeta Aurora on Wed, 06/10/2009 - 14:06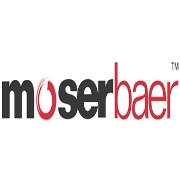 Stock analyst Sovid Gupta, Fairwealth Securities has maintained 'Buy' rating on MoserBaer to achieve a target of Rs 160.
According to Mr. Gupta, interested investors can buy the stock on dips with a stop loss of Rs 80.
The company's stock has seen a 52-week high of Rs 164.40 and a low of Rs 41.10 on BSE.
It looks that the stock will hit another 52-week high in the coming days. So interested investors can buy and hold the stock to make good returns.
According to Mr. Gupta, the call is based on vast potential in its PV business, growing sales volumes in Optical discs and rising share in high margins Blu-Ray and DVD format production.
Mr. Gupta also said that that positive operational cash flows and steady balance sheet is a trigger for the company.
Moser Baer is a potential multi bagger that can offer big returns if the technology company is betting on (Thin film PV cells) setting up itself as best cost PV cells.
The company as well as specialists projects PV to attain Grid parity by the next couple of years.
The noteworthy growth in margins for the fourth quarter on account of reduction in Raw Material and fuel Costs. Margins growth was led by Optical discs divisions where margins surged up to 32%.
During the last quarter, depreciation increased on back on capitalization of forex losses under AS-11. FCCB's worth $51 million were repurchased at over 70% discount and consequently 97 crores of extra-ordinary profits were made after writing down losses for strategic investments and provisioning forex losses for previous years.
As of March 2008, the company made a net cash of 821 crores.
There are expectations that the company will make a total cash of around 750 crores at the moment.
Company had Capital expenditure of $260 million during the existing fiscal, with majority of it going towards PV business ($233 million).
Company lifted approximately $260 million in 2009 via FCCB/ internal accruals- $22 million, $144 million via debt/bridge finance and $94 million thru Equity.
Company has a very healthy cash Balance of around 750 crores currently, of which standalone cash in hand is expected to be around 450 crores.