Buy Apollo Tyres To Achieve Intraday Target Of Rs 66.90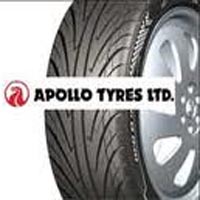 Technical analyst Anil Singhvi has maintained 'buy' rating on Apollo Tyres Limited stock with an intraday target of Rs 66.90.
Mr. Singhvi said that if the stock market remains positive, the next target for the day will be 69.40.
According to analyst, the stock of the company can be bought on dips with a stop loss of Rs 63.70.
The shares of the company, on March 10, closed at Rs 65.90 on the Bombay Stock Exchange (BSE).
The share price has seen a 52-week high of Rs 88.80 and a low of Rs 46.35 on BSE.
Current EPS & P/E ratio stood at 4.93 and 13.23 respectively.
According to reports, Apolo Tyres is eyeing Eastern Europe to make passenger car radial tyres.
There were reports that the company has rolled out its tyres in Europe a few months back and has been marketing around 50,000 units of truck radials on a monthly basis totally for the replacement market.
Onkar S. Kanwar, Chairman and Managing Director, Apollo Tyres Ltd said that Apollo, which already has a plant in the Netherlands - Apollo Vredestein BV, is now looking for another plant - either via acquirement or a green field division in the European market in order to meet up the growing demand for passenger car radials there.
Mr. Kanwar said, "We are looking at geographies such as Eastern Europe as the labour cost is reasonably low and the factory can run for longer hours and seven days a week as in India."
Now, the tyre firms are thinking over plans to overcome the declination in profits.
Apollo Tyres may also consider raising its tyre rates in the country as margins have been under huge pressure owing to growing input costs.