Bramaputra Mail derails, one killed
Submitted by Mohit Joshi on Mon, 12/10/2007 - 12:45
Siliguri (West Bengal), Dec 10 (ANI):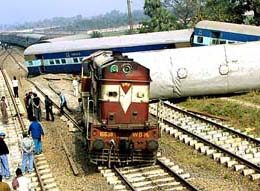 One person was killed and 49 others were injured when seven bogies of the DN Brahmaputra Mail derailed about 15 km from New Jalpaiguri junction late on Sunday night.
According to railway sources, the train, which had set out from Guwahati, was headed for New Delhi when the incident occurred between Rangapani and Nijbari stations at around 11.00 p. m..
The injured are undergoing treatment at the North Bengal Medical College and Hospital in Siliguri.
The deceased identified as Mohammed Imroz who was working with pantry car of the train, as confirmed by the rescuers.
The cause of the derailment was still not clear. (ANI)