Bomb explosion kills one in southern Philippine resort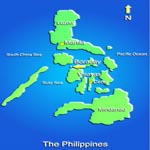 Cotabato City, Philippines  - One man was killed while three were wounded when a homemade bomb exploded in a beach resort in the southern Philippines, a regional military spokesman said Monday.
Lieutenant Colonel Jonathan Ponce said the explosion occurred late Sunday in the Besana Beach Resort in Lebak town in Sultan Kudarat province, 930 kilometres south of Manila.
Ponce said the bomb, made from a 60-millemetre mortar, exploded in an empty cottage adjacent to the cottage occupied by the victims.
Investigators were still determining the motive and the suspects behind the attack. Crime groups and Muslim separatist rebels are known to operate in the area. (dpa)