Biocon posts better-than-expected Q2 net profit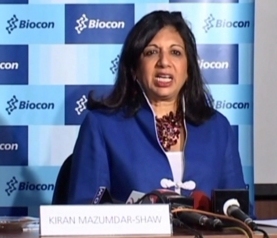 Biotech giant Biocon has reported a better-than-expected second quarter net profit growth, thanks to better export realization owing to a depreciating rupee.
The Bangalore-based biotechnology company said its net profit for the second quarter through September 30 jumped 4.6 per cent to Rs 90 crore, from the corresponding period of previous year.
Total revenues jumped 19 per cent to settle at Rs 642 crore, while branded formulations business enjoyed a growth of 42 per cent to Rs 91 crore. Biopharma segment grew 8 per cent to Rs 372 crore.
Kiran Mazumdar Shaw, chairman & managing director of Biocon, attributed the growth to volume growth and better export realization as a result of a depreciating rupee.
During the first six months of current fiscal, the company's research & development expenditure also jumped 54 per cent to Rs 79 crore. But Shaw said that expenditure on research & development should be seen as an investment.
Shaw added that while many companies are focusing on North American and European market, Biocon would focus on emerging market like India, Brazil, Thailand, Malaysia, China and South Africa because these emerging markets are growing at a rate of between 15 per cent and 20 per cent per annum, while US and European markets are growing in low single digits.