Audi's all-electric car sales increase 66% in Q1 2022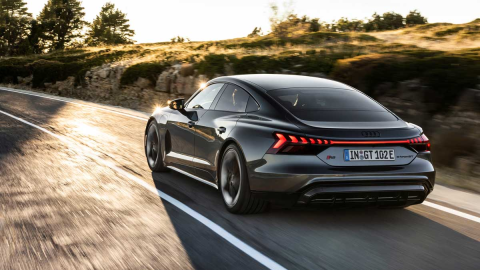 Audi, a luxury vehicle brand of German automotive manufacturer Volkswagen Group, suffered a noticeable decline in first quarter sales of its vehicles but sales of all-electric cars didn't disappoint. According to data released by the manufacturer, Audi car sales during the January through March quarter of 2022 slipped 16.8 per cent year-on-year to 3settle at 85,084 units. A year ago, sales of Audi cars were above average.
The luxury brand mainly blamed two factors for the decline in sales: supply shortages and renewed Covid-19 lockdowns in China.
Despite the aforementioned overall decline in sales, the company enjoyed an impressive jump in sales of all-electric cars. More precisely, the company delivered 24,236 units of all-electric cars during the quarter under review, up 66 per cent from the corresponding quarter of 2021. Of the brand's total quarterly sales, all-electric cars accounted for nearly 6.3 per cent.
The company undoubtedly enjoyed a strong jump in all-electric sales year-over-year, but the results aren't so rosy when we compare them with the fourth quarter of last year. Deliveries of all-electric cars noticeably slipped from the level recorded in the previous quarter. When it comes to sales of the plug-in hybrid models, the luxury brand didn't disclose the figures.
Among several families of Audi-branded electric cars, the top two are the Audi Q4 e-tron/Audi Q4 Sportback e-tron and Audi e-tron, Audi e-tron Sportback and the S-versions of both. The Audi Q4 e-tron/Audi Q4 Sportback e-tron attracted 10,700 buyers, while the Audi e-tron, Audi e-tron Sportback and the S-versions of both sold 10,300 units during the quarter.
In case business goes as usual, the brand should be able to hit a six-digit number in terms of sales of all-electric cars. During the year of 2021, the luxury brand sold 81,894 units of the all-electric cars.
As per the company's previously announced future plans, the number of all-electric Audi models will be tripled to more than 20 within the next few years. From the year of 2026, the world-renowned luxury brand will bring only new fully-electric models to the market.
Pushing ahead with its ambitious plans to boost production and sales of electric vehicles, Audi has set aside €18 billion to invest in electrification and hybridization of its vehicles between 2022 and 2026. The company has announced that nearly half of its total investment will go to electrification of its vehicles.