Asus launches Asus EAH4890 series graphics cards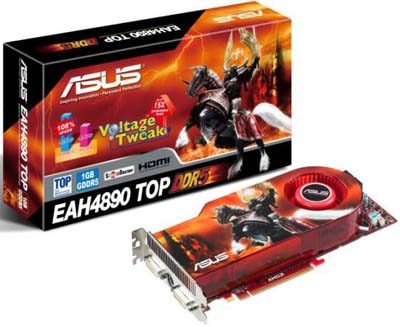 The well-known manufacturer of graphic cards in Taiwan – ASUS (ASUSTeK Computer Incorporated) has set out Asus EAH4890 series graphics cards using Voltage Tweak technology. The Taipei based ASUS has rolled out its two new Radeon HD 4890 GPUs (Graphics Processing Units) – EAH4890 TOP and EAH4890 standard edition, based on ATI Radeon HD 4890 graphics.
The new Radeon HD 4890 VPUs (Visual Processing Units) are equipped with the Voltage Tweak technology and SmartDoctor application. The SmartDoctor application of the graphics card help boosting GPU voltages from 1.312 V to 1.4 V via, which helps enhancing GPU and memory clock performances, up to 15 percent, from 850 MHz to 950 MHz and 3900 MHz to 4600 MHz respectively.    
Vinay Shetty, Country Head, Component Product, Asus, said, "Gaming has been the segment which has made the graphics card industry more challenging and has helped to raise the performance bar for graphics cards. At Asus we take pleasure in providing state of art technology that evolves with every new chipset."     
ASUS EAH4890 TOP offers enhanced GPU and memory clock performances from 850MHz up to 900MHz and 3900MHz up to 4000MHz respectively. According to ASUS, the new EAH4890 TOP graphics card can enhance game performance up to 15% with the SmartDoctor application. The EAH4890 standard edition graphics card features 800 stream processors, core clocked at 850MHz, 1GB GDDR3 video memory clocked at 3900MHz, and a 256-bit interface. The standard edition is designed to compete with Nvidia GeForce GTX 275 and 285 based graphics cards.
The new Radeon HD 4890 graphics cards also integrates the ATI Stream technology that uses the parallel processing power of AMD graphics processors to offer new potentialities. Supporting PCI Express 2.0 bus, two dual-link DVI, and HDMI out, the graphics cards also support a maximum resolution of 2560 x 1600. The Asus EAH4890 series graphics cards are available with Rashi Peripherals. The ASUS EAH4890 TOP is priced at Rs. 20,400 and ASUS EAH4890 standard edition is available for Rs. 19,500. These prices are exclusive of taxes.