Archaeologists find ancient babies' beakers in Sicilian necropolis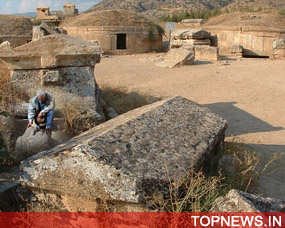 Rome, Nov 13 : Archaeologists have uncovered what they believe to be the largest Greek necropolis in the city of Himera on the island of Sicily, where the ancient version of babies' beakers has been found.
According to the new agency ANSA, although experts have long known about the burial ground, they have only recently understood its importance because of building work to extend a local railway track.
Hundreds of graves have already been uncovered, but archaeologists believe there are thousands more waiting to be found in the burial ground of the city, which rose to prominence more than 2,500 years ago.
"The necropolis is of an extraordinary beauty and notable dimensions," said Sicily's regional councillor for culture, Antonello Antinoro.
"''Preliminary estimates indicate the presence of around 10,000 tombs, which gives the site a good claim to being one of the most important discoveries of recent years," he added.
Among the most exciting finds are skeletons of newborn babies placed inside funerary amphorae along with the ancient version of babies' beakers, namely small terracotta vases equipped with spouts to function as feeding bottles.
Most of the graves in the necropolis date from between the sixth and fifth centuries BC, and archaeologists believe that many of the tombs contain the remains of thousands of soldiers, civilians and prisoners who died during two bloody battles that took place in the city.
According to Stefano Vassallo, who heads the dig, archaeologists were excited to have found a common grave containing a dozen bodies, all of whom he said were young, male and showed unequivocal signs of a violent death in battle.
"Some of the skeletons bear the signs of being hit by heavy objects, while others still have arrows attached to them," Vassallo said.
He added that skeletons found in the necropolis would undergo analysis by forensic anthropologists to determine information about the population's lifestyle and eating habits.
In addition to the huge numbers of human remains, the necropolis is gradually offering up a significant haul of funerary goods buried alongside the bodies such as oil-lamps, bowls, and ceramics.
Finds are being transferred to a small museum at the site, where they will be catalogued and restored before going on display at a new museum to be built at nearby Termini Imerese. (ANI)