Aquatica – Top Commercial Bathroom Sinks Seller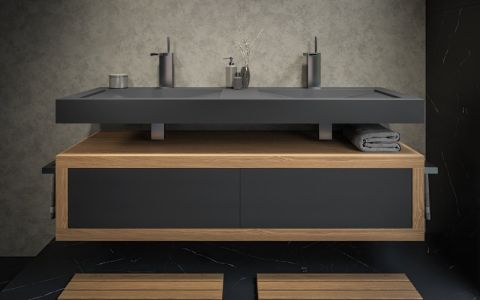 When finishing the renovation of your commercial space (restaurant, hotel, or store), you will in any case need to pick up a sink in the bathroom or toilet. What to do when the interior decor of your hotel is modern and elegant, and the whole selection of sinks on the market looks cheap and old-fashioned? Here we advise you to visit the Aquatica website because this store has commercial bathroom sinks for every taste. Their price and quality will definitely make you happy, and the warranty will save your nerves for many years. Especially for you, we will do a review on Aquatica Millennium-150-Blck Stone Bathroom Sink to show their goods.
Millennium-150-Blck Stone Bathroom Sink: Techs and Specs
This premium stone sink comes in two colors: expensive black (made of NeroX material) and elegant white (AquateX material).
Size range also pleases with its variety. In order for you to accurately place the sink in your bathroom, the Millennium-150-Blck Stone Bathroom Sink comes in two different sizes: small (length is 47.25 inches, width is 20.5 inches, and height is 4 inches). The dimensions of the large sink are 59.75 L x 20.5 W x 4 H. Measure your bathtub correctly and choose a sink that meets your needs. The weight of the large sink (an important parameter for transportation) is 68 lbs. and the small one is only 53 lbs. Any type of sink you choose has a wall-mounted installation.
Why Choose Millennium-150-Blck Stone Bathroom Sink?
1. Premium and unique design. This sink is one-of-a-kind and meets modern trends.
2. This sink is part of an exclusive collection, so if you need Aquatica tubs, you can pick up a complete set.
3. Great price for the best quality (starts from $2,969).
4. 5-year warranty from the store. When you shop at Aquatica, you'll forget all about repairs and replacements because you'll get a 5-year warranty!