Apple iPad's pricing and distribution has been stronger than iPhone's
Submitted by Amanda Lysak on Thu, 04/04/2013 - 19:32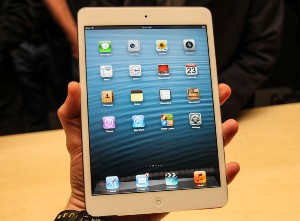 According to a note written by Toni Sacconaghi for Bernstein Research, the iOS market share in tablet computers will be more easily held by Apple, as compared to the software's smartphone-market share; thanks largely to the more competitive pricing as well as the better distribution of the iPad vis-a-vis the iPhone.
Sacconaghi said in the note, which was covered by Barrons, that Apple's approach in the tablet market has been notably different form the approach which the company followed in the smartphone market.
Elaborating on the "several differences" in Apple's smartphone- and tablet-market approach, Sacconaghi said that the iPhone left "a price umbrella" for the other manufacturers of smartphones to offer low-priced unsubsidized handsets, even for the high-end devices.
Noting that "the subsidy model allowed Apple to earn gross margins well above 50% on the iPhone, compared to ~30% on non-subsidized hardware products (Mac, iPad, iPod)," Sacconaghi said: "Other smartphone vendors using free Android software were able to price below Apple for unsubsidized phones and still earn gross margins above 30%, especially on high-end smartphones."
Comparing Apple's iPhone strategy with its iPad strategy, Sacconaghi said that the Apple tablet does not offer any room for competition because Apple has not left an iPhone-like `price umbrella" for the iPad; and added that, when the iPad was first launched, it was "cheaper than tablets with inferior features."