Apple business grows in Himachal despite low production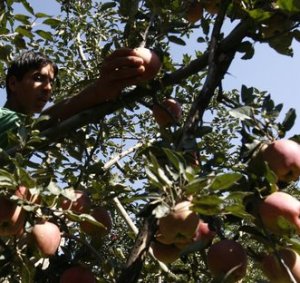 Shimla, Oct. 14 - Apple growers in Himachal Pradesh have all the reasons to celebrate as apple business in the state has gone up by Rs 1,000 crore this year, despite low production.
The local markets in Narkanda, Shimla, Dhali, Solan and Parwanoo in the state are particularly doing well, as the revenue generated has shot up to Rs 4,500 crore from Rs 3,500 crore last year.
Despite low apple production this year, the apple growers have no reason to complain due to the flourishing business. On an average, one box of apples costs about Rs 1,000 but this year the price has been varying from Rs 1,000 to 2,200 per box.
"The economy of thousands of people here depends on the apple business, which generates over 3500 crore revenue for the people in the state. This year, Himachal Pradesh has witnessed a good apple business, adding more to the economy of the state," said trader Ram Mohan.
"The growth in apple business is benefiting the state each year. We have done a good business, although, there has been a comparatively low production. However, farmers have grown apples of different varieties such as Royal Delicious, Golden, and Grimy this year," said Mohinder Satan, vice chairman Himachal Pradesh APMC Fruit Market in Shimla. (ANI)