Angry Chandigarh farmers allege mismanagement of wheat procurement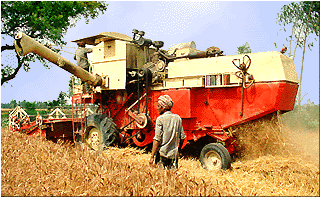 Chandigarh, Apr 7 : Farmers in Chandigarh are blaming the Punjab Government for the alleged mismanagement of wheat procurement. This is now threatening to turn into a major election issue.
The Food Corporation of India store houses are packed with grain, but little has been done to channelise it into the Public Distribution System.
"The Government should have made arrangements for storage facilities of wheat grains ten days before it was cut. Till now, nothing has been done. The crops have reached the market, but there is no space for storage. The Government should save the landlords from losses," said Amrik Singh, a farmer.
The Congress and the Akali Dal-BJP combine have locked horns over the issue.
The Akali Dal says it is the Central Government''s duty to manage the distribution of the grains.
"The Congress is making it an issue that the Punjab Government is not distributing the wheat grains. It''s not the Punjab Government''s duty. It belongs to the Central Government. Only they have to distribute it. They cannot make an issue out of it," said Ajmer Singh Lakhowal, senior leader of Akali Dal.
The Congress blames the Akali Dal for the mismanagement and lack of storage facilities.
"We have done five procurements of wheat and five procurements of paddy when we were in government and we had no trouble anywhere. The reason is that you have cash credit limit that is given to you by Food Corporation. I think in my time, it was 7500 crore for paddy and about 6000 crore for wheat. I am told till yesterday that 1000 ton (wheat) has come but that''s a beginning and then you carry on payments. Now why should that be a problem? Even if your stores have got wheat stored in them, you have plinths. The old system was to put them on plinths with tarpaulin and all," said Amarinder Singh, a senior Congress leader.
The Lok Sabha elections are just a month away and the wheat mismanagement is snowballing in to a major issue. (ANI)