Advani casts his vote in Gandhinagar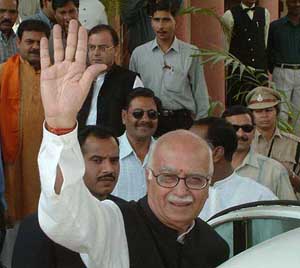 Gandhinagar (Gujarat), Apr 30 : Bharatiya Janata Party (BJP) prime ministerial candidate Lal Krishna Advani cast his vote in Gandhinagar on Thursday.
"The NDA will emerge as the largest coalition in the country. The people will vote for the NDA only," Advani said after casting his vote.
Advani will be seeking a fifth term from Gandhinagar after his victory from this constituency in 1991, 1998, 1999 and 2004.
His main rivals are Congress nominee Suresh Patel and noted danseuse Mallika Sarabhai, who is making her electoral debut as an independent. Patel is Congress MLA from Kalol for the second time.
Sarabhai said she would continue her fight for the basic rights of people irrespective of the election outcome.
"Whatever the results be, we are going to fight tooth and nail so that the people of this country have the fundamental rights that they have been guaranteed 62 years ago and that they don''t even have today. We talk about red herrings like Internet connectivity, when people don''t have drinking water and when they don''t have a toilet. What Internet connectivity are we talking about?" Sarabhai asked.
Meanwhile, Gujarat Chief Minister Narendra Modi said high voter turnout in the state would help their cause.
"I hope that polling would be high and good. It seems that people would vote before lunch. It seems that the mantra given by us yesterday ''first voting, then household work'' seems to be working here," he said.
Polling for all the 26 Lok Sabha seats of Gujarat is taking place today. (ANI)