70-Years-Old Indian Woman Gave Birth To A Baby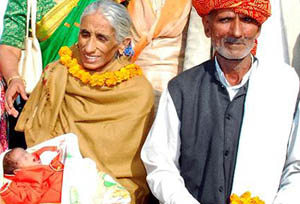 An Indian woman, Rajo Devi gave birth to a baby girl in November at the age of 70. She was not able to conceive the child naturally but with the help of in-vitro fertilization, she got pregnant and now has a daughter, Naveen Lohan.
The couple of Rajo and Bala Ram live in a small village of Haryana. After hearing that a 60 years old woman gave birth to twins, they went to the Hisar National Fertility Clinic for treatment. And now Rajo becomes the oldest women to have a child and is planning another child. She said: "It's amazing to finally be a mum; I've waited for so long to have a baby of my own. The doctors said I was healthier than many women half my age. I would love to have a boy as well."
According to some critics, the older women who went through this treatment have higher health risks for themselves and their babies. In most of the cases, the mothers will not survive. But in the case of Rajo, Dr. Bishnoi said: "Rajo is very fit and healthy for a 70-year-old and there was no risk to her health. She is fitter than many women half her age."
For treatment, the donor eggs from some other IVF patient were fertilised with Bala Ram's sperms and implanted into Rajo. She got pregnant at the second attempt and to make her womb stronger for carrying a child, she was given hormone treatments, Dr. Bishnoi said.
The old couple is very happy with their own child. Bala said: "We are pleased to have Naveen home. She can do anything she wants to do in the future. We'd love her to fly a plane, or become a doctor."