5 Challenges Only Those Who Play Rummy Online Will Understand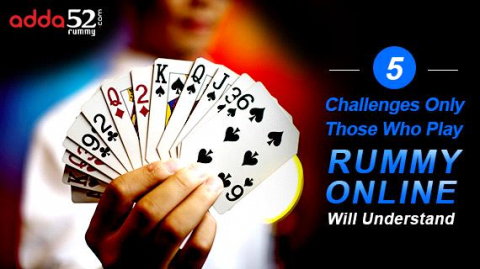 Rummy, as a game is a test to human intelligence, and those who enjoy mental stimulation, are a fan of this game! The players have to overcome several challenges in the different stages of online rummy, which makes this game so interesting. If you are an avid player or aspire to be one, you will also need to realize the learning curve through which you get your upgrade from a rookie to a pro.
After reaching that stage, when you play rummy, you may compete in cash games and stand a chance to win real cash. And it doesn't stop just right there. You will aim to win bigger and get better at the game, too!
There are a number of critical challenges that you need to overcome to secure a successful online rummy game. Let us look at some of these challenges:
• Choosing the Ideal Website
Before you start to play rummy online, your first task is to choose the site with which you want to begin your rummy journey. In our country, there have been many online rummy gaming platforms that host plenty of games and tournaments 24x7. Look out for options of available variants of rummy, free games, rummy promotions, and customer-friendly helplines on the website.
You should check the review of the gaming website before you register. Ask a rummy counterpart or research online to choose the best. The better the website, the better gets your rummy experience!
• Connectivity Issues
It is a major challenge faced by many in our country. It is of high importance that you set up a decent connection to play rummy. Only then will you be able to enjoy playing the game without any intervention. Imagine you are playing a cash game and are about to make a critical move. And suddenly, you lose the internet connection which in turn costs you the game as well as your money.
So, play rummy online only with a decent internet connection. And it is always wise to have a backup internet connection to avoid any disturbance.
• Game Selection
Mostly all online rummy websites provide a great range of rummy tables across all three variants of Indian rummy. These variants include points, deals and pools rummy. The basic rules for each variant are the same, but there is a difference in the formats. It would help if you chose a variant as per your preference and play wisely. Especially if you are playing a tournament or cash game, be smart.
The way to go about this challenge is to play free games, move to cash games and then enter the tournament. Following this way will help you prepare yourself with practice and learn different strategies.
• Card Arrangement
When you play rummy online, you need to be quick and agile, so you need to be more attentive than usual. Most rummy websites have a time slot for making a move. Thus, there is a chance that you may miss your move if you do not decide and act quickly. A simple way to turn this nightmare around is by arranging your cards as quickly as possible.
Start with pure sequences and then make sets and other melds. If you have a joker card, try to create an apt combination quickly. Doing so will help you focus on your game better. Plus, you will get time to scrutinize the discarded cards of your fellow opponents and strategize accordingly.
• Addiction
Mostly you will find players who love to play for cash when you play rummy online. Among the members of this online rummy community, some are mature enough to handle the cash flow. But some misunderstand the stream and turn addictive towards the game. Try and avoid being in the latter category.
Although playing rummy is recommended, getting addicted to it is not advisable. It might not happen, but if you lose in a few games, you may start disliking your favourite source of entertainment – the game of rummy! Hence, ensure that this does not happen, and you continue playing the game with the same vigour and make a healthy schedule to do the same.
Win Over the Challenges to Emerge as a True Rummy Lover
Jump through these hurdles and experience the online gaming rummy arena without any difficulty. Remember that if you are playing rummy, it is better to do so on a reliable platform. Such platforms take utmost care of their players. Like, Adda52rummy is a rummy platform that empowers its players to indulge in healthy gaming. They have a minimum and a maximum amount that you can deposit limiting your game. In this manner, you will not go overboard.
Apart from this, the money that you win is credited to your chip balance almost immediately. It is up to you when you want to redeem that balance or a part of it and play with the rest!