14,000 at Hong Kong's two main airlines agree to unpaid leave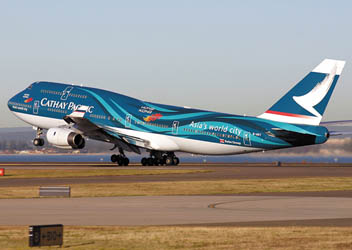 Hong Kong - Around 14,000 staff at Hong Kong airlines Cathay Pacific and Dragonair have agreed to take unpaid leave in response to a cost-cutting appeal, the sister airlines announced Friday.
The response - amounting to some 70 per cent of the two airlines' global workforce - includes 77 per cent of Cathay Pacific flight attendants and 85 per cent of ground staff, the airlines said.
However, unpaid leave has been accepted by only 14 per cent of Cathay Pacific pilots, whose union remains locked in talks over the scheme which in their case has been linked to an increase in retirement age from 55 to 65.
At Dragonair, the response was stronger with 55 per cent of pilots and around 80 per cent of ground staff and cabin crew consenting to unpaid leave by noon yesterday, the statement said.
The airlines on April 17 asked all staff to take unpaid leave of between one to four weeks depending on seniority to help the company deal with the impact of the global financial crisis.
The appeal came after Cathay Pacific reported a 22.4 per cent year-on-year first quarter dip in revenue, following its first annual loss for more than a decade in 2008.
The deadline for accepting unpaid leave was extended yesterday from April 30 to May 10, the airlines said, to allow flying crew on roster duty and staff on leave more time to consider the scheme.
The largely positive response to the scheme comes despite continuing resistance from the 5,000-member Cathay Pacific Flight Attendants Union and the Aircrew Officers Association.
Both unions have urged members not to sign for unpaid leave yet, saying they want more details from the company about legal and labour issues before endorsing it.
Cathay Pacific Chief Executive Tony Tyler said: "We are very encouraged by the response so far ... In extending the deadline, we recognise that some of our staff will need more time to absorb the information and consider the facts before giving consent."
There was no immediate response to the acceptance figures from the two main staff unions Friday. (dpa)