Why RCB is favourite to win IPL this time
Taking into account the history of the biggest and most expensive sports tournament, IPL we have concluded that RCB holds the chances to win this time. Royal Challengers Bangalore have the highest chances of winning the 2020 IPL and is the best bait for your betting.
If you differ at the thought that how these IPL underachievers have a chance of bagging the tournament title, we should view the following tricks and theme applicable throughout the previous tournaments.
Spending a balanced budget makes it a good team
IPL has always been synonymous to being the highest expenditure tournament, with the best players of each team earning more than $1 million each year. The amount of money spent during the bidding, attracts equal amounts of fandom as the tournament itself.
However, it is a fact that the most expensive squad has never won the title. Thus, we can immediately rule out Mumbai Indians from this year's tournament who owns the most expensive squad in 2020.
We can also opt out Delhi Capitals, who have the least budget making it a bad choice for IPL betting. However, Royal Challengers Bangalore is the fourth most expensive team making it a perfect choice that fulfils this key factor.
The most paid player
It is a theme in IPL where the team to win the title always consists of a highest paid player who belongs to Indian origin. The only exception to this was found in 2009, when Deccan Chargers bagged the title with an overseas highest paid player in their team.
This thought rules out other teams from the tournament, including Rajasthan Royals, Sunrisers Hyderabad, and Kolkata Knight Riders, all of whom have made an overseas player their highest paid recruit for this year.
RCB fulfils even this key aspect with Virat Kohli, being their highest paid player in the team. We can hope than He will keep up to the hopes placed on him.
The number of internationals in a team
The costly tournament also includes a balancing of perfect combination of squads. It is shown in the history of 12 years of tournament that 11 of the previous 12 IPL champions, have always consisted of minimum 15 players of international standards.
This rules out Kings XI Punjab, Kolkata Knight Riders and Rajasthan Royals, who do not match up to the lucky number.
Royal Challengers Bangalore however, consists of 18 players of international standing, making it a good choice.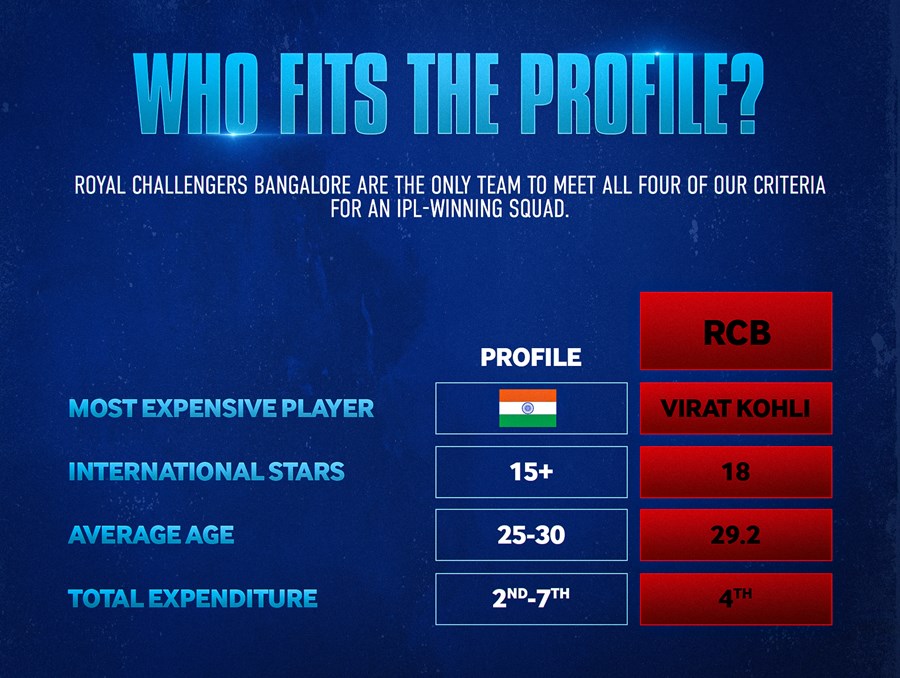 The age limits
There should be a perfect ratio of youth and experience in a team. It is seen that no team with an average of more than 30 years is seen to win the tournament and no team with freshers of average age below 25 years have reached the target. Here again, RCB fulfils the criteria with an average age of 29.2 years.
Thus, there is hope for this team to win the IPL this time. Team will be playing their first IPL 2020 game on 21stSeptember against Sunrisers Hyderabad.
Infographic source: Betway IPL Blog