Von Teese urges fellow burlesque stars to defy crackdown on UK shows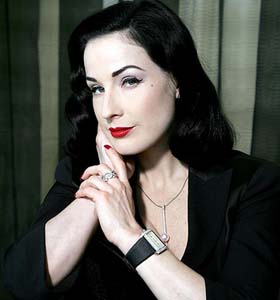 Washington, Apr 30 : American burlesque artist Dita Von Teese has urged her fellow performers to defy a new law banning nightclubs from having stripper shows without a licence, saying it is what makes risqué dance routines "exciting".
Von Teese, 36, lashed out after officials in the U. K. capital introduced a new legislation forcing club owners who stage burlesque nights to apply for a lap dancing licence.
The artist is adamant that strippers should always strive to bend the rules, as it is a tradition in the saucy trade.
"It's not unusual for burlesque to be regulated because it always has been, and the stars of burlesque from the past had to deal with it," Contactmusic quoted her as saying.
"The challenges of getting around the laws and the risque element were always a part of what made burlesque exciting.
"I've been stripping since 1991 and have travelled all over the world and had to be aware of the laws. Sometimes I complied and sometimes I didn''t.
"Perhaps these clubs will install the historic ''red light, green light'' that they had in burlesque clubs to tell the performers whether the cops were in the house or not," she added. (ANI)