USD/JPY Daily Commentary for 4.29.09
The USD/JPY is at a standstill after yesterday's banking holiday.  The volume in the currency pair has been subdued as investors await the Prelim GDP data from the U.S. today, followed by Japan's Prelim Industrial Production number in the evening PST.  The USD/JPY is sitting at a key juncture, the inflection point of our 1st tier downtrend and 2nd tier uptrend lines.  Therefore, we expect the USD/JPY to awaken with all of the incoming news.  
Japan's economy continues to struggle with an overall appreciated Yen squeezing the nation's export industry.  Therefore, investors have been reluctant to appreciate the USD/JPY considerably even during flights to safety.  Both the Japanese and American economies remain mired in the economic crisis with long interest rate swaps close to nil.  Hence, we continue to see the behavior of the USD/JPY reflect comparative economic performance.  
The USD/JPY is still trading at dangerous levels and could be very close to giving way to its powerful downtrend.  If this should happen, we could see a retest of March lows with the currency pair headed towards our 1st tier uptrend line.  On the other hand, if economic data from Japan and the U.S. manages to outperform, the currency pair may choose to hop back above its 2nd tier uptrend line in a sign of stability.    
Fundamentally, we maintain our resistances of 97.11, 97.98, 98.56, 99.20, and 99.79.  To the downside, we hold our supports of 96.33, 95.55, 95.04, 94.48, and 93.57.  The 100 level serves as a key psychological barrier with 95 acting as a psychological cushion.  The USD/JPY is currently exchanging at 96.78.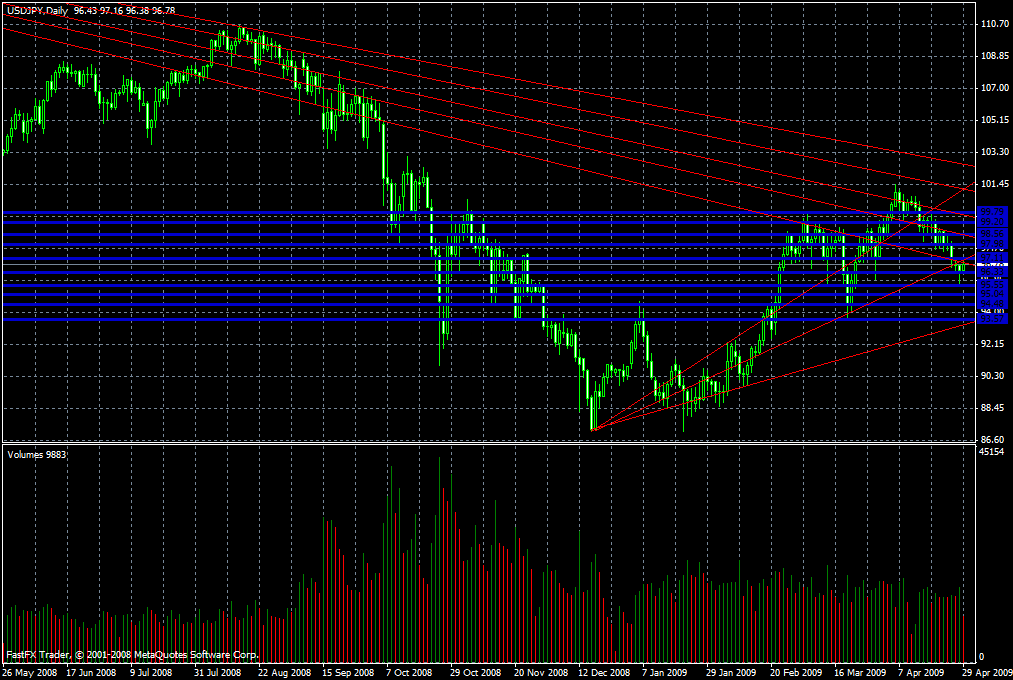 Copyright 2009 FastBrokers, Latest Forex News and Analysis for Forex, Bullion and Commodity Traders.
Disclaimer: For information purposes only. FastBrokers assumes no responsibility or liability from gains or losses incurred by the information herein contained. There is a substantial risk of loss in trading futures and foreign exchange.