USD/JPY Daily Commentary for 4.20.09
The Yen is strengthening slightly against the Dollar again, but the USD/JPY is presently finding strength in our 1st tier uptrend line. Weakness in the USD/JPY reflects the selloff taking place on Wall Street premarket Monday morning.
With the bad news from Japan out of the way, the focus turns towards U. S. equities and corporate earnings, so the USD/JPY should exhibit a positive correlation with the S&P futures for the time being. As we stated previously, the USD/JPY's uptrend is young and fragile.
Therefore, the uptrend lines for the currency pair to fall back on are few in number. Hence, despite the Dollar's recent strength and attack at 100, the uptrend could easily crack should U. S. equities falter. We've got multiple downtrend lines bearing down on price.
Therefore, if the USD/JPY should drop below our 1st tier uptrend and downtrend lines, we could witness a sharp, near-term correction. On the opposite side of the coin, life remains in the uptrend and a continuation of a path to the upside is certainly possible. Keep a close eye on this currency as volatility could pick up, particularly to the downside.
Fundamentally, we see resistances of 99.06, 99.79, 100.28, 100.71, and 101.44. To the downside, we find supports of 98.16, 97.59, 97.11, 96.33, and 95.55. The USD/JPY is currently exchanging at 98.46.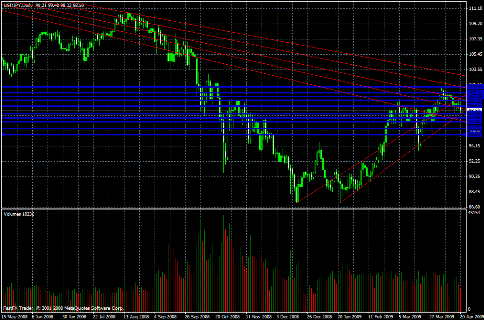 Copyright 2009 FastBrokers, Latest Forex News and Analysis for Forex, Bullion and Commodity Traders. 
Disclaimer: For information purposes only. FastBrokers assumes no responsibility or liability from gains or losses incurred by the information herein contained. There is a substantial risk of loss in trading futures and foreign exchange.