US stocks edge higher in slow trading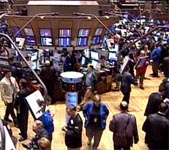 New York, Dec 31- US markets posted minor gains Wednesday in a light trading session ahead of New Year's Eve.
Some investors took heart from positive manufacturing data out of Chicago in the industrial heartland, but many appeared to be closing their books on the year and waiting to restart their engines in 2010.
The Dow Jones Industrial Average was up 3.1 points, or 0.03 percent, to 10,548.51. The broader Standard & Poor's 500 Index added 0.22 points, or 0.02 per cent, to 1,126.42. The technology-heavy Nasdaq Composite Index gained 2.88 points, or 0.13 per cent, to 2,291.28.
The dollar climbed to 69.74 euro cents from 69.69 euro cents Tuesday and rose to 92.43 Japanese yen from 91.96 yen. (dpa)