Ukraine will honour gas deal, Yushchenko vows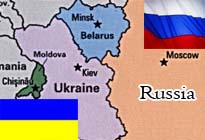 Brussels - Ukraine will stand by the terms of the deal which ended its gas row with Russia, even though not all the details are to its liking, President Viktor Yushchenko said on Tuesday.
"The agreements signed are not easy ones, but Ukraine fully takes up the performance (of its commitments) and guarantees full-fledged transit to European consumers," Yushchenko told journalists in Brussels after a meeting with the head of the European Commission, Jose Manuel Barroso.
The assurance that Yushchenko will abide by the terms of the agreement finalized by his prime minister and political rival, Yulia Tymoshenko, is "an important step forward in allowing us to focus on our broader relationship," Barroso said.
Yushchenko's visit to Brussels came a week after the end of a row between Kiev and Moscow which had cut off all Russian gas supplies to Europe through Ukraine.
The row ended in the signing of a 10-year contract between the Russian and Ukrainian gas monopolies which Tymoshenko and her Russian counterpart, Vladimir Putin, brokered. Yushchenko had criticized some of the terms of the deal, raising fears that he could reject it.
His working breakfast with the head of the EU's executive was dominated by the energy question, with both men highlighting the need to upgrade Ukraine's gas-transit system and build more links between Ukrainian and European energy markets.
"The gas transit system has to be in closer union (with European systems), not only in a technical sense, but it should also be involved in the organization of gas policy on the European continent," Yushchenko said.
The commission is set to host an international conference aimed at gathering donations to upgrade Ukraine's gas-transit system on March 23 in Brussels. The EU and Ukraine are now set to form a joint expert group to plan the meeting, the leaders agreed on Tuesday.
Yushchenko stressed the importance of that meeting, but said that Ukraine's transit network was one of the most reliable in Europe.
"We are interested in the commission and the EU considering as a reliable partner," he said.
During the conflict, Barroso had warned that both Russia and Ukraine were damaging their credibility as reliable partners.
But on Monday he said that "in bilateral relations, we are not taking any negative consequences from (the gas row) because we believe Ukraine wants to deepen the relationship with the EU, and we also want to deepen the relationship with Ukraine."
He also said that "we have to state very clearly that we were disappointed by the problems between Ukraine and Russia," and called for political stability and reform in Ukraine.
The gas crisis renewed EU interest in alternative supply routes. On Tuesday, an international conference opened in Budapest to discuss the "Nabucco" pipeline, planned to bypass Russia and Ukraine by bringing gas from Azerbaijan to Europe. (dpa)