Ukraine airport arrivals to walk mats soaked with disinfectant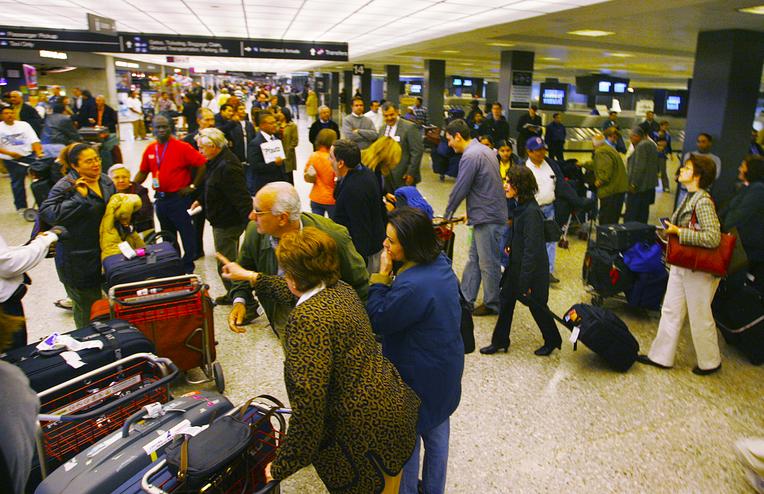 Kiev - Air travelers arriving in Ukraine from countries hit by the swine flu virus must exit their plane across mats saturated with disinfectants, according to Health Ministry instructions going into effect on Tuesday. The anti-virus pathways are to be at the exits of aircraft arriving from Mexico and the US, government officials said.
All plane arriving on Ukrainian soil from Central and North America will receive "intensified health inspections," government spokesman Mykola Kornienko said, according to Fakty newspaper.
Ukraine's leading airline Aerosvit on Tuesday issued medical masks and gloves to air crew traveling on routes linking with the US and Mexico, to be used in assisting passengers showing signs of flu infection.
Air crew working Aerosvit's popular New York-Kiev route by government order must indentify to authorities at Kiev's main airport Boryspil the names of all passengers aboard displaying symptoms including fever or chronic cough, Kornienko said.
Similar measures will go into effect in other Ukrainian airports servicing international routes, said Vasyl Kniazevich, Ukraine's Health Minister, at a Kiev press conference.
A total ban on import into Ukraine of live pigs from any country and of raw pork products from Mexico, New Zealand, Canada, and some US states also was in effect, Sehodnia newspaper reported.
Ukraine's government had no supplies of swine flu vaccine, and so was recommending increased vitamin C intake, non-consumption of imported pork products, and avoiding crowds, as the best ways for Ukrainians to avoid infection, said Oleh Nazar, a Kiev city health official.(dpa)