Two soldiers killed in clash in southern Philippines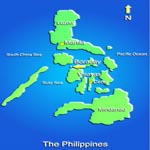 Cotabato City, Philippines  - Two soldiers were killed and two more wounded in a clash with unidentified gunmen in the southern Philippines, an army brigade commander said Wednesday.
The fighting erupted Tuesday evening when soldiers securing a highway in Baloi town in Lanao del Norte province, 810 kilometres south of Manila, encountered an undetermined number of heavily armed men, Colonel Benito De Leon said.
De Leon said there were no reported casualties on the enemy side.
Baloi is a one of the towns in Lanao del Norte where there is a heavy presence of Muslim secessionist Moro Islamic Liberation Front (MILF) guerrillas.
Peace talks between the government and the MILF have been stalled since August after the guerrillas attacked towns and seized villages to protest a key territorial agreement struck between the government and rebels going unsigned.
More than 300 people were killed in the attacks and subsequent fighting, and more than 500,000 were displaced at the height of the clashes.
The 12,000-strong MILF has been fighting for an independent Islamic state in Mindanao since 1978. It entered into peace negotiations with the government in 1997. (dpa)