Tripura witnesses dull campaigning on last day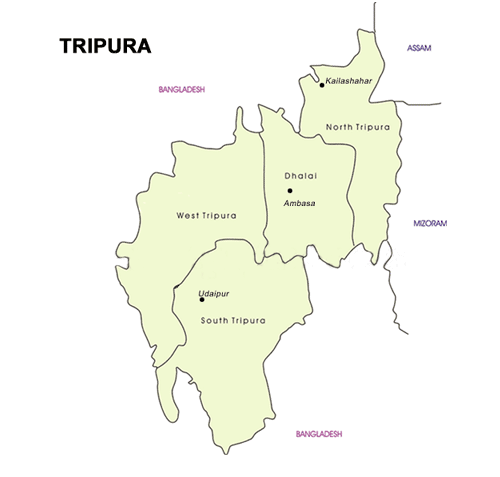 Agartala, Apr. 21: Elections for two Lok Sabha seats scheduled on April 23, Tripura witnessed a very dull last day of campaigning.
"This is the dullest election I have witnessed till date; the state Congress unit without any campaign or activities seems to have given a walkover to the Left", said senior member Tripura Pradesh Congress Committee (TPCC) and a former Congress MLA Tapas Dey.
Tripura which is politically very active unlike earlier, this election missed street plays, poems, songs and colourful decorations as part of campaigning for the two Lok Sabha seats.
No star campaigner or any big rally was there in the state except one by CPIM general secretary Prakash Karat, who visited the state only for few hours.
"The TPCC has brought Pranab Mukharjee, as captain to attack Left, but unfortunately for only few street corners like and he returned back on the same day to Kolkata and the impact is our boys could not be motivated to come to the field', said Dey.
The ruling Communist Party of India-Marxist (CPI-M) though managed few big rallies but stretched on people to people contact through local meeting and house to house campaign.
Congress and Bharatiya Janata Party (BJP) have organised poll campaigns using vehicles draped with colourfully party flags and festoons and putting few flags by the road side.
"Campaign here this time is very dull no doubt about that because Congress has not taken much of an initiative to launch and carry on good campaign for the election," said Sekhar Datta, special correspondent, The Telegraph.
Tripura which had it assembly election only a year back in which Left had a sweep victory this time had had very less publication of books; leaflets besides letters to the electorate highlighting various issues are the other methods of campaign used by all political parties.
"In Tripura campaign had not pickup because the opposition is a divided house. Activist of the opposition seems to be not working for the victory of Congress candidate. It has become a one-sided game. Left or CPIM is a much organised party," said Jayanta Bhattacharjee, political analyst.
Today at the end of the campaign there was a mammoth rally of the Left in capital Agartala and the enthusiasm of the party cadres with band party and songs was so high as if they were celebrating victory.
"Today at the end of campaigning it can be easily said that the campaign was only of out party i. e. of Left Front and the scene is same through out the state', Samar Aidro, senior CPM leader.
Tripura is going for poll for its two Lok Sabha seats with 19 candidates, including a woman in the fray and over 2.08 million voters, including 1.01 million women, will exercise their franchise at 3,008 polling stations. With almost no campaign of opposition parties the result is expected to be sweep for the ruling CPI-M-led Left Front. (ANI)