Team Anna's Entry in Politics Can Bring A Big Change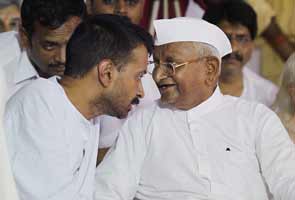 Team Anna announced entering politics after the UPA government did not listen to their demands. After many agitations under leadership of Anna Hazare, the team has finally decided to face the politics parties in elections.
There are different views from major parties on Team Anna's political aspirations. However, one thing is sure that there will be a change in the Indian political scene.
Team Anna has been very good in getting media coverage and bring people's attention on major issues the country is facing these days. Corruption is a major plank and the promise of bringing a change can help Team Anna get support from various sections of society in India.
Many people also talk about failure of such movements in the past. Baba Ramdev also wanted to bring a major change. Baba Ramdev was having a plan to enter active politics. However, the yoga guru and his associates have been busy escaping the web woven around them due to financial irregularities in yoga trust.
Members of Team Anna are activists and have displayed their clever strategies in the past. They have been able to organize people on various occasions and have been successful in gathering massive crowds. So, lets hope that Team Anna will bring a change in the Indian political scene.