South Korea's Kangwon Land Casino gets permission to extend opening hours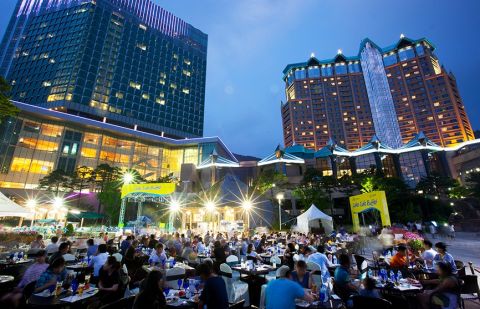 South Korean casino and resort giant Kangwon Land Casino has confirmed that it has obtained regulatory permission to extend opening hours, a development that will allow gaming enthusiasts to have more of betting and fun times.
The Seoul-listed casino giant said in an official filing that its entertainment venue in rural Gangwon Province will now be able to operate for up to 20 hours every day. The mass-market segment of its casino floor will now feature as many as 180 gaming tables, which represents an increase of 20 from the previous count. The casino operators got the permission from the country's Ministry of Culture, Sports and Tourism. However, the country's Ministry of Education is yet to discuss the new operating plan.
A media report quoted Kangwon Land Inc.'s changed operating plan as, "The operating plan due to the changed business hours and the increase in the number of general business tables will be discussed separately with the Ministry of Education."
Situated nearly 93 miles from Seoul, the Kangwon Land Casino is the only gaming facility in South Korea that allows local gaming enthusiasts to gamble alongside foreign gamers or tourists. The popular gaming venue was forced to close its doors to the public on 23rd of February this year as authorities passed "stay at home" orders in a bid to control the notorious corona virus pandemic.
Kangwon Land Casino is majority-owned by the South Korean government. After the announcement of shutdown on 23rd of February, industry experts estimated that the temporary corona virus-related closure of the venue would likely causes revenue losses to the tune of $219 million.
Kangwon Land Casino is not the only victim of the corona virus pandemic-induced prolonged shutdown as casino resorts across the globe, ranging from Macau to Las Vegas, have suffered hefty losses to the pandemic. DiamondJacks Casino in Louisiana has just announced its shocking decision to close its doors permanently. In the US, it became the second casino to close permanently. Nevada-based Lakeside Inn casino was the first casualty last month after it decided to close permanently due to irreversible adverse business conditions.
Kangwon land Casino re-opened the VIP section of its gambling venue nearly eleven days ago and now it is hoping to exploit the new regulatory permission from the Ministry of Culture, Sports and Tourism to gain more customers in the very near future.