Sell IOB with a target of Rs 130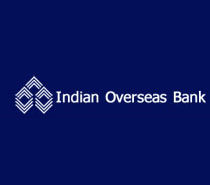 The Aditya Birla Money group has maintained 'sell' rating on the Indian Overseas Bank (IOB) stock with a short term target of Rs 130.
According to analysts, the stock can be sold with a stop loss of Rs 145.
Today, the stock of the Indian Overseas Bank opened at Rs 137.10 on the Bombay Stock Exchange (BSE).
The share price has seen a 52-week high of Rs 176.35 and a low of Rs 88.00 on BSE.
Current EPS & P/E ratio stood at 15.56 and 8.78 respectively.
However, IOB prices moved towards the higher end on the growing move and tasted major selling pressure as well as ended the session around unchanged last session.
On the other hand, the bank also aims to unveil its entry into Africa and convert its representative offices in Dubai and China into branches as part of its efforts to expand foreign operations.
While talking to media, IOB's Chairman and Managing Director M Narendra said, "We are looking for some openings in Africa. We have just initiated the process."
Whereas, the research report from the Aditya Birla Money states, sell IOB originally less than Rs 138.90 and then on jump of around Rs 142, with a target of Rs 130 and stop loss of Rs 145.