SC to hear petitions against Modi's remark on Sohrabuddin killing
New Delhi, Dec. 10 (ANI):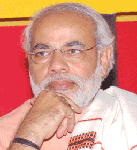 The Supreme Court will today hear two separate petitions seeking action against Gujarat Chief Minister Narendra Modi on his "inflammatory" remarks about the 2005 fake encounter of Sohrabuddin Sheikh.
A Bench headed by Justice Tarun Chatterjee will hear the case.
The petitions were filed by senior counsel Dushyant Dave on the behalf of Rubbabuddin Sheikh, brother of Sohrabuddin Sheikh and by Prashant Bhushan, who appeared for Javed Akhtar.
Both sought an inquiry into Modi's justification for the fake encounter of Sohrabuddin Sheikh.
Meanwhile, the Election Commission (EC) on Sunday deferred its decision on the response sent by Modi to the notice sent on December 6.
The notice said that the speech of Modi, reportedly justifying the encounter killing of Sohrabuddin, amounted to an open exhortation to violence and misuse of religion for political ends.
In his response, Modi completely denied the charge levelled against him for violating the model code of conduct by invoking religious sentiments for meeting political ends, and said that the notice issued by the EC in this regard was based on the "basis of unverified and false media reports. "
At an election rally in Jamnagar District on December 4, Modi admitted that Sohrabuddin's encounter did happen in Gujarat, saying the latter got what he deserved.
"Yes, Sohrabuddin's encounter happened in Gujarat, and if Sonia Gandhi wants she can hang me for this, " said Modi.
Sohrabuddin was reportedly gunned down on November 26, 2005 after being branded a Lashkar-e-Toiba militant by the state police, allegedly trying to hatch a conspiracy to kill Modi. The cops also allegedly killed Sohrabuddin's wife, Kausar Bi. (ANI)