Rupee 8 Paise Down to Rs 44.43, against Dollar
Submitted by Harish Dhawan on Mon, 07/25/2011 - 13:25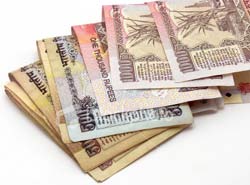 The Indian Rupee came 8 paise down to Rs 44.43 against the US dollar on Monday, July 25, 2011. The Indian currency was down at 44.43 per dollar, whereas last week it was 44.35/36 per dollar at the Interbank Foreign Exchange
(Forex). Possibility of the US debt crises reasons out the weak opening of the Indian stocks in early trade.
According to a Forex dealer, oil-refiners were the main reason which has affected the rupee value against the dollar. In Asian trades, crude oil has gone down due to the expected US default.
On Friday, FIIs has purchased the Indian shares worth Rs. 444.91 crore and domestic institutional investors (DIIs) purchased the Indian shares worth Rs. 243.05 crore. During the time, the BSE Sensex was high at 18769.18, 46.88 points up and S&P CNX Nifty was high at 5645.1 5, up by 11.20 points.
The euro- rupee contract has gone down by 0.22% from previous sessions 63.88 to 63.75. The JPY/INR contract has gone up by 0.08%, from 56.50 to 56.54, however, GBP/INR contract stayed firm at 72.36 during the end, on Friday. While writing, USD/INR contract was 5 paise or 0.11% up at 44.43, whereas its previous close was at 44.38.