Republic Day celebrations carried special meaning for people in the northeast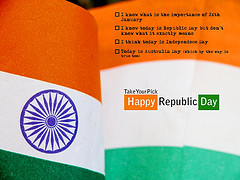 Imphal/Guwahati/Agartala, Feb. 3 : As the nation celebrated the 60th Republic Day recently, the occasion witnessed a wave of cheer and celebration mood in the northeast as well.
The significance of celebrations in the northeast deserves special mention since the residents in the northeast States opted to join official celebrations, defying threats by militants.
In Manipur's capital Imphal, people joined the celebrations at various places despite the boycott call given by some underground groups. Residents opted to be a part of the Republic day revelry.
S. Sahajahan Shah, a student in Manipur, said: "I''m really proud, our whole school is really proud. Celebrating Republic Day and remembering that day is really important and I am really proud of this day."
"This is a very important day for our State as well and India as a whole. We are participating in this parade because we want to give our best," said M. Sangita Devi, another student.
In Assam, the State Governor S. C. Mathur took the guard of Honor and hoisted the tricolor.
Addressing the people, Governor Mathur stated that the government''s endeavor was to neutralize militancy and bring the misguided youth back to the mainstream of society.
Children from different schools took part in the celebrations with great zeal.
The large attendance in large numbers demonstrated a rejection of threats by militant groups and a reassertion of patriotic feelings.
"Everybody should come and participate in this parade. Both small as well as elders should join the parade. There should not be any bandh and it shoud be celebrated every year with great joy," said another student in Assam
"I''m not scared. My mummy allowed me to come to participate in the parade. I''ve been coming here for two years now. I''m very happy to come and I love the parade," said another student in Assam during the Republic Day function.
In Tripura, thousands of people defying the militant''s boycott participated in the celebrations throughout the State.
The State Governor Dinesh Nandan Sahaya, unfurled the tricolour and took the guard of honour. A colourful cultural programme followed the parade.
Participation of the people in Republic day showcased the spirit of nationhood and a desire among people in the northeast to march hand in hand with the rest of the country in saluting its progress and prosperity. (ANI)