Rajnath asks Manmohan Singh not to bow under pressure in J-K land row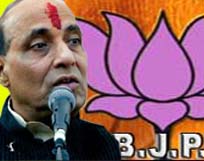 New Delhi, June 27 : BJP President Rajnath Singh today asked Prime Minister Manmohan Singh not to revoke the decision of allotment of 40 hectares of land to Shri Amarnath Shrine board (SASB).
In a letter written to the PM, he said that the Central Government should not come under pressure on such a vital issue as it would harm the communal harmony of the country.
As the decision was taken by the Jammu and Kashmir cabinet earlier in the year, any going back on the decision to allot the land to the (SASB) would amount to discrimination on the basis of religion or community, Rajnath said.
If there was no opposition to the Huj subsidy, then how could the Central government even appear to vacillate on such an important issue, he added.
The controversy started after 40 hectares of forest land at Baltal were transferred to the shrine board to build facilities for Amarnath pilgrims.
Environmentalists say the project is a danger to the forests, to which the shrine board CEO reportedly said that 'yatris were less polluting than the locals.'
BJP leader L K Advani had said that the problem came up because of the nature of coalition government and that the Governor had nothing to do with it.
The controversy has claimed three lives, leaving about 250 people injured including 50 policemen in the police firing and clashes between stone pelting demonstrators during the last five days. (ANI)